Today, our homes themselves have become a gadget. You just need your fingertips to control its different corners. From the entry to the exit, things can be remotely controlled now. The style of living has become fully computerized, a hub for technologically advanced gadgets and gizmos, serving you with ultimate comfort and security. Here is how technology is controlling and helping you at different points in your home:
A Self-maintained Refrigerator: No more worrying about your fridge's cleanliness and maintenance as it is now smart enough to take care of itself. If you are ignoring its clean up for the past few days, it will alert you on the same with a smart indication. Not only this, it will also inform you when you are running low on grocery or eggs, thus making your life really simple. If you want to install home automation network, then you can check out the various online sources.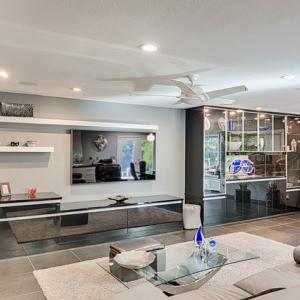 A Remote-controlled Washing Machine: Washing clothes are no less than a fun activity now. It will wash your clothes according to their fabric and the amount of dirt your clothes have. Even the speed and drying mechanism are remotely controlled, offering a convenient washing.
HVAC & Lighting Control: The installation of these DIY home automation systems is really a boon for physically dependent people. Now, they don't need to call out others to adjust the room temperature or switch on or off the lights for them.
Full Control Over Garage Doors, Windows and Intercom: With home automation system you can excellently integrate your windows, garage doors and intercom, which lets you regulate all of them on your single command. Besides this, your sprinkler systems, coffee makers and even your hot tub will work as per your directions, in a way giving full authority in your hands.
Complete Security at All Levels: The wiring together of different corners of your home with a home automation system makes it fully protected. As soon as somebody arrives at your place, the lights will get automatically on with simultaneous switching up of your heaters or air-conditioners. Apart from this, you may even enjoy automatic door locks for your home with these hi-tech systems. Thus, making your place a highly secured one to live in.